Our mission is to inspire leaders to live a 360° life through enriched experiences in unique environments.
We facilitate this through:
Physical Training


Neuro Science/Mindfulness Training




Executive Coaching
Are you one of the unique individuals who is qualified and inspired to start a chapter in your area?

Are you ready to become a Licensed Active Exec™ Coach™ (LAEC)?
This is a one of a kind Experiential Coaching Program that blends  inspiring workouts with Executive Coaching and Neuroscience based Mindfulness Training. This program is the first of its kind anywhere.
For years, we've thought of combining our love of coaching with stimulating physical activities. This is the culmination of our life's work. We could not be more excited to offer opportunities to other like-minded folks who want to spread this powerful concept!
The goal of this program is to help leaders create a 360° Life™ –  one that integrates their physical, mental, emotional, and spiritual being.
We are designating a few highly qualified and passionate Active Exec Chapter Leaders in strategic locations across the country. If our mission resonates with you, please drop us a note. Please tell us a little about yourself and why you would like to know more. We will schedule a time to chat. If that conversation goes well for both of us, we will ask you to formally apply by filling out an application and moving through our interview process.
************************************
Here are the highlights of our Active Exec Coaches Program™:
Minimum One Year Commitment
Annual license investment: $25,000. This can be paid quarterly and shared by more than one person
No geographic exclusives. We are only designating a few Coaches in each city. We will continue to offer this as a very exclusive program, and therefore, will never overlap areas.
One full week of training in Denver is required before you will be designated an Active Exec Coach. This is included in the annual license investment.
Equipment investment: <$500.
Gym/office space required: $0.
Attendance in our annual conference is required. No cost to you other than travel expenses.
Participation in a monthly support call.
Active presence on the Active Exec blog.
Here are the benefits of becoming an Active Exec Coach™:
You become part of the Executive Coaching University family. ECU is the global leader in Executive Coaching training.
You will earn the designation of Licensed Active Exec Coach (LAEC).
Certification in our Certified MasterMind Executive Coaching Process. This is the program which thousands of people in 39 countries have taken. The tuition for this program alone is $2795. It is included in your license investment.
You will be trained in our proprietary coaching process.
You will be part of a program that generates consistent cashflow.
Your break-even point to pay for your license investment, equipment, and typical marketing expenses is less than 3 clients a month!
You become part of an international brand which has been around over 16 years and has wonderful credibility in the coaching and leadership development world.
You will gain access to our ECU Training Vault which houses dozens of courses, workbooks, and other resources that will help you succeed. This program alone is $2100 a year.
You will be trained in a concept which attracts extremely high profile clients. The collective net worth of an Active Exec Group is staggering. One of our groups is in excess of $25 million! Imagine the upside of working with folks like that.
You will be afforded tremendous professional growth opportunities.
Onsite launch support from one of our expert coaches the week you start your first program.
Annual Conference at no charge.
You become part of our very active and supportive community of like-minded coaches.
You will gain access to all other Active Exec Coaches that will provide support, marketing ideas, and camaraderie.
Link to your website from our Executive Coaching University site.
You receive very high touch support every step of the way.
Publicity via our blog.
Support call each month.
A site visit with hands-on coaching once a year.
Incredibly low breakeven point since there is zero gym/office space necessary and <$500 in equipment required.
We will continue to offer ongoing training opportunities.
You will have an opportunity to join us on amazing adventures we put together each year, like backcountry hut trips, etc.
What makes the Active Exec Program™ so special?
Coaching around the 3 Pillars of our program: Physical Training, Mindfulness Training, and Executive Coaching.
Our collective experiences as athletes, executives, and executive coaches.
Our platform under the Executive Coaching University platform.
Our credibility.
Our location.
The proprietary coaching sequence we have perfected.
The program is outside year round.
Ease of entry for our new Coaches.
Extra, experiential events.
Our intellectual property.
Our community.
Our passion for our mission!
Spreading a new, healthier way of life.
Sustainability built into how we do our work.
Our "Servant's" mindset.
Putting theory into practice.
Living by example.
Creativity in how we approach personal growth.
Resilience that comes from our training.
Trust – in each other and in others' potential for growth.
Shared experiences.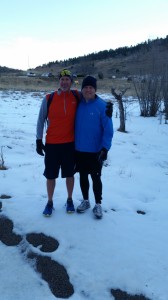 What snow? This is Perry May with Greg. Here's what Perry said about his first Active Exec session:
"It was a very powerful experience for me. Thank you and I am really jazzed about the potential of what you are creating here for us. Thanks for affording me the opportunity to join."
Doing the "bear crawl" with big grins!
 Have you ever seen an Executive Director of a non-profit pull a president of an organization on a sled?!
We will work out rain or shine… and we really mean it! A big part of personal growth is learning to excel in all conditions, physically and mentally. This approach builds not only physical resiliency but also mental toughness.
We mix locations up from time to time. It could be working out at Red Rocks or hiking up South Table Mountain to watch the sun rise in the winter. Maybe even doing a "Hydro" workout at Matthews/Winters Park on a warm day. Rest assured, the experiential nature of this program will be unlike anything you've ever done. You will never get bored!
Some of the team working out as they watch the sunrise over Red Rocks!
Warmly,
Drayton, Greg, and Matt
Meet Your Active Exec™ Coaches
Drayton Boylston                                                                                        Matt Jones
                                            Proudly Certified By:
Click here to go to the full Executive Coaching University site.
If you have any questions please give us a call at 303.526.2626 or email us at
Support@ExecutiveCoachingUniversity.com